Great Lakes Retreat 2017
Sogyal Rinpoche will offer teachings on the Buddhist wisdom of understanding the mind and meditation in the spirit of Dzogchen – the highest wisdom of the Tibetan Buddhist tradition. Alongside the teachings, there will be instructions on meditation and time for practice and reflection guided by senior students.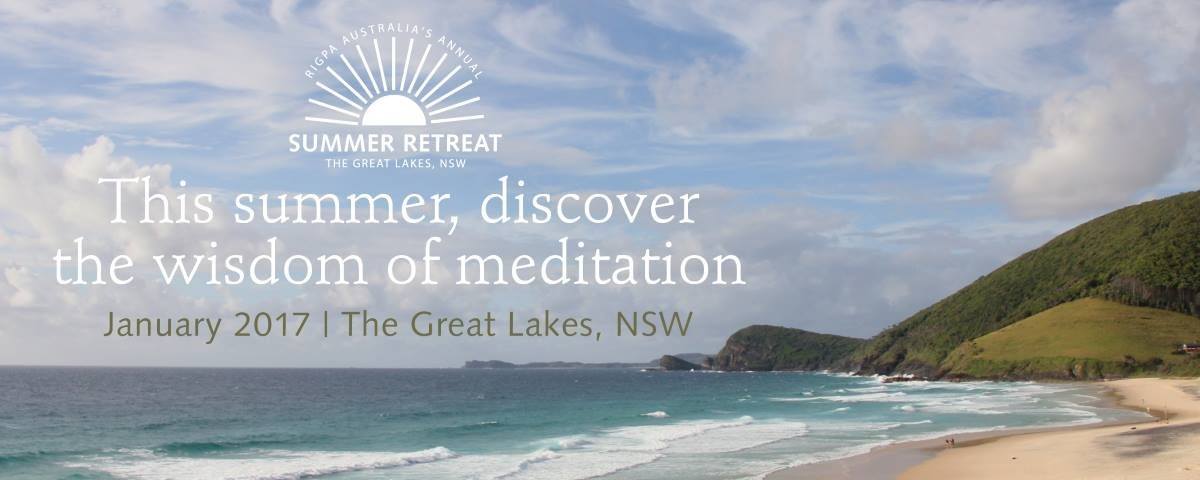 Meet Sogyal Rinpoche
World renowned Tibetan master, Sogyal Rinpoche will be visiting Australia again in 2016. You are welcome to spend 3 or 10 days at the annual Rigpa retreat in the beautiful Myall Lakes, and attend daily teachings given by Rinpoche.
This is a precious opportunity to be in the presence of such a great teacher and hear this centuries-old Buddhist wisdom first hand.
Three Retreat Options
The Short Retreat Option will start at 5pm on 12 January and conclude in the late afternoon/evening on 16 January 2017.
The Full Retreat Option will also start at 5pm on 12 January and conclude in the late afternoon/evening on 22 January 2017.
The Retreat Extension for Rigpa students in the Ngondro and Dzogchen Mandala only, starting on 23 January and concluding in the late afternoon/evening on 26 January 2017.
Please, note that the short retreat will especially cater for public and newer Rigpa students.
Rinpoche has asked that the established Rigpa Sangha come to the full Great Lakes retreat, as this will be our main chance to connect with him in 2017.
Share the News
Please share this information with friends or family that may like to retreat from the hustle-and-bustle, for a few precious days with Rinpoche in the beautiful surrounds of New South Wales Great Lakes.
Contact
If you have any questions you can contact retreat@rigpa.org.au or phone (02) 9037 4002.
January 12th, 2017 3:00 PM through January 22nd, 2017 7:00 PM
North Coast TAFE and Secondary College




346 The Lakes Way




TUNCURRY

,

NSW

2428




Australia
Retreat Fee
Full Retreat
$ 895.00
Full Retreat Benefactor
$ 950.00
Full Retreat - Concession
$ 555.00
Full Retreat Under 26
$ 150.00
Accompanying others - Not Participating
$ 0.00
Short Retreat
$ 355.00
Short Retreat - Benefactor
$ 375.00
Short Retreat under 26
$ 100.00
Short Retreat - Not Participating
$ 0.00
Retreat Extension (per day)
4 days 525.00
$ 131.25
Retreat Extension - Benefactor (per day)
4 days $650.00
$ 162.50
Retreat Extension - Concession (per day)
4 days $395.00
$ 98.75
Retreat Extension - Youth under 26 (per day)
4 days $100.00
$ 25.00
Retreat Catering Fees
Breakfast Full Retreat
$ 88.00
Lunch Full Retreat
$ 165.00
Dinner Full Retreat
$ 88.00
Breakfast Short Option
$ 35.20
Lunch Short Option
$ 66.00
Dinner Short Option
$ 35.20
Breakfast (daily rate)
4 days $35.20
$ 8.80
Lunch (daily rate)
4 days $66.00
$ 16.50
Dinner (daily rate) 4 days $35.20
$ 8.80
Transport Fees
Return Trip ex Sydney
$ 78.00
Return Trip ex Newcastle
$ 78.00
One Way From Sydney to Retreat
$ 39.00
One Way From Newcastle to Retreat
$ 39.00
One Way From Retreat to Sydney
$ 39.00
One Way From Retreat to Newcastle
$ 39.00
$5.00
Rigpè Yeshè Donation Amount
Student Assistance Fund Donation Amount